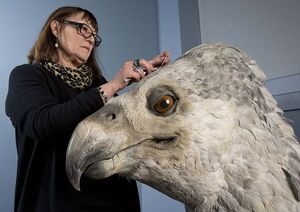 Val Jones (also credited as Val Jones-Klein, Valerie Jones-Mendosa, and Val Jones-Mendoza) worked with Jim Henson's Creature Shop, initially as a costumer on The Dark Crystal. With the other costumers, she was one of the designers for the Dark Crystal clothing line offered exclusively to upscale stores.[1]
Jones moved on to general fabrication, often specializing in fur and feathers, on Labyrinth and The StoryTeller. She took a break to work as prosthetic/creature supervisor on Willow (with Warwick Davis) but returned to the Creature Shop in the 1990s for work on feature films from other studios. She left again after The English Patient, working for Neal Scanlan's studio on Babe: Pig in the City, 102 Dalmatians, and Kangaroo Jack. She designed the effects costume for the vampiric Mina Harker in The League of Extraordinary Gentlemen and was a key animatronic designer of various critters for the Harry Potter series.
Credits
Sources
External links
Daily Mail. "Flight of fancy: How Harry Potter artist built Buckbeak the Hippogriff..." March 22, 2014.
Community content is available under
CC-BY-SA
unless otherwise noted.