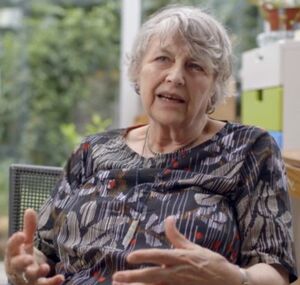 Valerie Charlton is a modeler, sculptor, and designer who worked on The Dark Crystal, supervising design and fabrication of the Landstriders. For Labyrinth, she was credited as senior animation modeller and worked on Hoggle and the Riding Goblins.
Charlton collaborated often with members of Monty Python, beginning by building the knights' ship in Monty Python and the Holy Grail and continuing to Life of Brian and The Meaning of Life. For Python alumni Terry Gilliamn, she built the titular monster in Jabberwocky and worked on Time Bandits, Brazil, and The Adventures of Baron Munchausen. Other film credits include Greystoke: The Legend of Tarzan, Indiana Jones and the Temple of Doom, and Who Framed Roger Rabbit
Sources
"Valerie Charlton: The Making of a Monster." Video interview, Criterion release of Jabberwocky. 2017.
External links
Community content is available under
CC-BY-SA
unless otherwise noted.