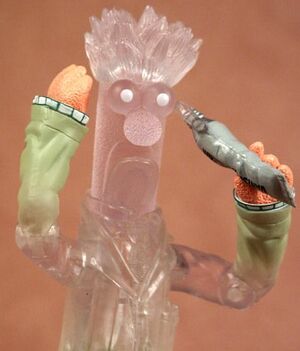 Released: Spring 2002
Articulation: Neck, ball jointed shoulders, elbows, wrists, waist, ankles
Accessories: Tube of Vanishing Cream

Vanishing Cream Beaker is the result of one of Dr. Bunsen Honeydew's experiments gone wrong - causing his upper half to no longer be visible.
An exclusive action figure of Beaker, made by Palisades Toys in honor of The Muppet Show's 25th anniversary, was sold at the Chicago Wizard World Convention. Following complaints from completest fans who weren't able to attend this convention, Palisades created the Palisades Collectors Club website where the convention figures were put for sale as well. Vanishing Cream Beaker was included in the first membership packages. For the first 100 members, an industry giveaway Invisible Beaker Action Figure was included as well.
Vanishing Cream Beaker is made from the same sculpt as the Beaker figure from the Muppet Labs Playset. He is made of see-through plastic, with only his lower arms and lower half of his body painted. The same concept was used later for the exclusive Invisible Fozzie Action Figure.
The tube of Vanishing Cream accessory fits into the hand of both the Beaker and Bunsen figures.