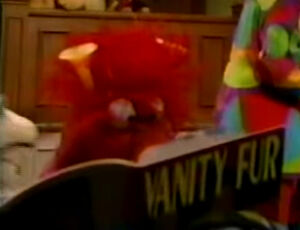 Vanity Fair is a magazine of pop culture, fashion, and current affairs published since 1983.
Appearances
Sesame Street was featured in a two-page photo spread in the October 1998 issue to celebrate its 30th anniversary. The article was written by Leslie Bennetts with photography by Timothy Greenfield-Sanders and art direction by Laurent Linn. Kermit the Frog, Zoe, Rosita, Elmo, Grover, Big Bird, Count von Count, Baby Bear, Telly Monster, Ernie, Rubber Duckie, Bert, Prairie Dawn, Cookie Monster, Oscar the Grouch and Slimey appear with Noah Wyle, Roscoe Orman, Emilio Delgado, Linda Bove, Rosie O'Donnell, Ray Charles, Tracey Ullman, Mike Myers, Sonia Manzano, Bob McGrath, Ruth Buzzi, Loretta Long, Dennis Franz, Melissa Etheridge, and Jeff Goldblum.
The October 2015 issue featured a spread with the hosts of late night television talk shows, all of whom happened to be men: Stephen Colbert, Conan O'Brien, Trevor Noah (for The Daily Show), James Corden, Jimmy Kimmel, Jimmy Fallon, John Oliver, Larry Wilmore, Seth Meyers, and Bill Maher. Participating in an #AskPiggy event on Twitter on September 29, 2015, Vanity Fair linked to an article featuring the photo with Miss Piggy photoshopped in, for her role as host of Up Late with Miss Piggy. [1]
A 2017 video by the magazine featured the Sesame Street Muppets (Elmo, Abby Cadabby, Grover, Cookie Monster, Big Bird, Ernie, Bert, Oscar, Rosita and the Count) reciting famous movie quotes, including quotes from Frankenstein, Sons of the Desert, Snow White and the Seven Dwarfs, The Wizard of Oz, The Adventures of Sherlock Holmes, Knute Rockne, All American, Citizen Kane, Casablanca, Yankee Doodle Dandy, The Naughty Nineties, It's a Wonderful Life, A Streetcar Named Desire, Dr. No, Cool Hand Luke, Funny Girl, 2001: A Space Odyssey, Jaws, Rocky, A New Hope, Airplane!, Poltergeist, E.T. the Extra-Terrestrial, Sudden Impact, The Terminator, The Karate Kid, Back to the Future, Top Gun, Moonstruck, Dead Poets Society, A League of Their Own, A Few Good Men, Forrest Gump, Clueless, Jerry Maguire, Notting Hill and The Help. (YouTube)
A November 2019 edition of their "In a Day" video series stars Elmo describing his daily routine. The video features appearances by the Count, Cookie Monster, Abby, Big Bird, and a Muppet carrot and potato. (YouTube)
A December 2019 video features Big Bird taking a lie detector test. Big Bird's interrogators include Cookie Monster, Elmo, and Abby Cadabby. (YouTube)
Another video released in December 2019 sees Elmo, Abby, Cookie Monster, and the Count doing impressions of each other and other Sesame Street Muppets. (YouTube)
References