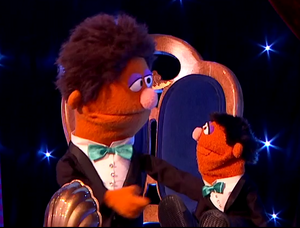 Ventriloquism is a form of puppetry in which the puppeteer (or Ventriloquist) manipulates their voice to make it appear as if it is coming from another source. This illusion is often performed without the ventriloquist moving their lips, making it seem as though the puppet itself is the one doing the talking.
HBO produced several adult-oriented ventriloquist specials, the first of which, The Vent Event, featured a pre-taped cameo appearance by Kermit and Fozzie Bear, as well as Jerry Nelson.
One episode of Muppets Tonight featured a plot that revolved around a ventriloquist dummy trying to find a replacement for his old ventriloquist partner, Chick. Auditioning replacements included Bobo the Bear, Bill the Bubble Guy, Rizzo the Rat, Seymour and Pepe, Spamela Hamderson and Beaker.
A ventriloquist performed at the Furchester Hotel in the episode "The Furchester Talent Show."
Below is a list of ventriloquists that have worked with the Muppets, as well as a list of ventriloquist acts within Muppet productions.
Ventriloquists
Ventriloquist Dummies and Puppets