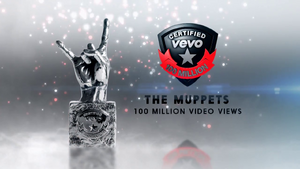 vevo is a joint venture video hosting service owned and operated by Google, Universal Music Group, Sony Music Entertainment and Abu Dhabi Media. Launched in 2009, the videos on vevo are syndicated across the web, with regional restrictions (IP address blocking) applying to their presence on YouTube, but not to their localized official vevo websites.
vevo Certified
On March 21, 2014, vevo posted five Muppet videos to celebrate the franchise receiving over 100 million views, and therefore becoming "vevo Certified." The video release was timed to coincide with the release date for the film Muppets Most Wanted, and featured Constantine and a Muppets Most Wanted song.
In the videos, Constantine and Miss Piggy appeared to accept the award (actually belonging to Demi Lovato), and Floyd Pepper and Animal provided music video commentary.
External links