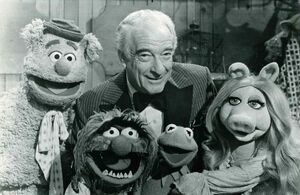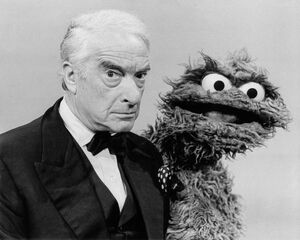 Danish-born Victor Borge (1909-2000) was a classical pianist, conductor, composer, songwriter, entertainer, and actor. During his long career, he appeared on radio and television, in movies, and made many comedy (and a few serious classical) albums. He also performed in concerts throughout the world.
One of his famous skits involved "phonetic punctuation," in which he read a story out loud, and replaced each punctuation mark (such as commas, question marks, and periods) with sound effects. He later performed this skit on The Electric Company.
Borge appeared in several inserts on Sesame Street beginning in season 9. He was also the guest star on episode 405 of The Muppet Show. In an interview with the Danish magazine Se og Hør in 1979, he said how he could not sleep between two taping days, feeling that his performance of Liszt's Hungarian Rhapsody No. 2 with Rowlf the Dog wasn't good enough. So the set was rebuilt the next day and the scene was re-taped. He also admitted that there's limits to what you can do in front of a piano, and therefore his appearance was mostly a repeat of what he has done before.
He was the recipient of the Kennedy Center Honor in 1999 for his lifetime contributions to arts and culture.
Sesame Street segments
| Picture | EKA | Description |
| --- | --- | --- |
| | Episode 1166 | Victor Borge talks about practice by playing the scales, but needs some help from the sheet music. |
| | Episode 1173 | Victor Borge talks about practicing by showing how he's "improved" at playing the scales from a young age. |
| | Episode 1174 | Victor Borge demonstrates seat belt safety when playing the piano. |
| | Episode 1175 | Bob tries to sing "Es lebt' eine Vilja, ein Waldmägdelein" from Die lustige Witwe, accompanied by Victor Borge. |
| | Episode 1176 | Victor Borge sits down to play Chopin's "Revolutionary Étude", but when he lifts his hands from the keys, the music continues. He looks around in confusion and slams the cover down. |
| | Episode 1178 | Victor Borge explains that the keys on a piano aren't perfectly white because the elephant whose tusks were used to make them didn't brush after each meal. |
| | Episode 1181 | Victor Borge demonstrates how to "handle a Grouch" by being grouchier than Oscar. |
| | Episode 1186 | Victor Borge demonstrates high and low notes. |
| | Episode 1219 | Victor Borge: "Pardon my back...pardon my front, but that's just the way I'm built." |
| | Episode 1241 | Victor Borge plays a short note, followed by a very long note (that even puts himself to sleep). |
| | Episode 2372 | Victor Borge and two girls play "Three Blind Mice." |
References
At A Capitol Fourth in 2009, Big Bird is about to conduct an orchestra and remarks "Pardon my back; pardon my front. That's the way I'm built. Victor Borge, 1956."