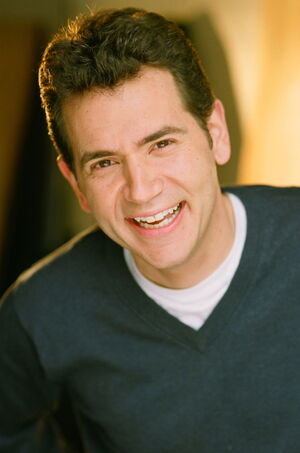 Victor Yerrid (b. November 13) is best known in the Muppet world for his work on the movies.com online series, Statler & Waldorf: From the Balcony in which he performed Waldorf along with an assortment of other new and old characters.
Yerrid started out as an intern for the Jim Henson Company, and later worked for a time at the Muppet Workshop in New York advising interns of his own. He was a shipping coordinator for Muppets from Space and an assistant to the Workshop Director, Ed Christie.[1] He also contributed to The Muppets Big Book of Crafts.
Yerrid has frequently teamed with Drew Massey for a number of projects, which he commented on in an interview with fansite The Muppet Newsflash:
Although both had worked for the Henson Company beforehand, Yerrid and Massey didn't meet until working on Greg the Bunny, where Yerrid played Tardy Turtle and Cranky.[3]
Outside of Henson, Yerrid has puppeteered on the Greg the Bunny spin-off Warren the Ape, Angel (as Polo in the puppet episode "Smile Time"), Crank Yankers, The Book of Pooh, and the remake of Sigmund and the Sea Monsters (as Slurp). An active voice-over artist, Yerrid has been heard on Robot Chicken and MAD (often doing Muppet impersonations on both) as well as Drawn Together and various video games.
Credits
Farscape: The Peacekeeper Wars:

Bishan

(puppetry only)
Statler & Waldorf: From the Balcony (pilot, episodes 9-34): Waldorf, Billy, Detective, Hugo, Larry, Lester Possum, Loni Dunne, Louie, The State of Indiana, Jimmy Pureisle
The Producers: Lead Puppeteer, Pigeons
Sid the Science Kid: Mort, Gerald
Pajanimals: Squacky
The Dark Crystal: Age of Resistance: Hup, Ritual Master (puppeteer only)
Sources
External links