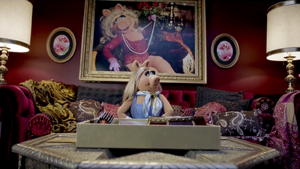 Victoria's Secret is a brand of lingerie and beauty products, headquartered in Columbus, Ohio. The establishment was founded in 1977 as an alternative shopping experience to the more public department stores. It later famously distributed mail order catalogues featuring fashion models and ultimately branched out into major commercial advertising campaigns broadcast on television and published in magazines.
References
Miss Piggy appeared in a spoof of a print advertisement for "Pigtoria's Secret" in Kermit the Frog's 1996 Advertising Parodies! The parody played on the character's struggle with maintaining a pleasing figure by providing a phone order number: 1-ATE-222-MUCH. Pigtoria's Secret is advertised as maintaining a presence in London, France and Underpants (referencing the famous limerick) and carries the slogan "Living The Fantasy Of Moi." The photo later showed up as a poster on the wall in Piggy's Up Late dressing room.
In Miss Piggy's Rules, Miss Piggy suggests readers shred their boyfriend's copies of the Victoria's Secret Catalog when breaking up with them.
Connections
Tyra Banks was a Victoria's Secret Angel from 1998 to 2005.
Heidi Klum has been a Victoria's Secret Angel since 1999.
Community content is available under
CC-BY-SA
unless otherwise noted.