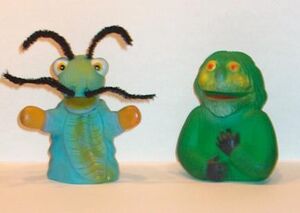 Estrela released a series of Vila Sésamo rubber finger puppets in Brazil in 1970.
The figures were packaged with a card, which was numbered with a picture of the available finger puppets.
On the back there was a discription how to use the finger puppet and how to make a little cardboard television that you could use for playing with it.
Available finger puppets where:
Gugu from soft green rubber
Garibaldo from soft blue rubber
Grilo (no 14.30.12), a green rubber cricket figure with his antennae and palps made of black chenille.
Zé Das Latas, silverish rubber version with a blue feather on top of his antennae.