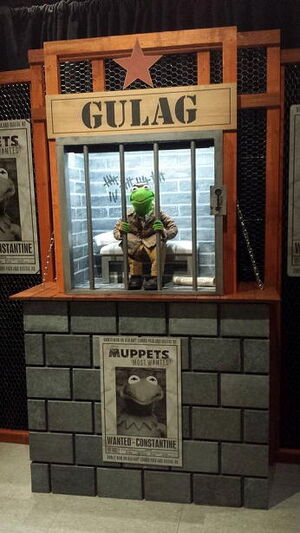 Villains Unleashed was a one-time after-hours event held at the Disney Hollywood Studios theme park in the Walt Disney World resort on August 23rd, 2014. The event featured performances and meet and greets with Disney's greatest villains, including Snow White's Evil Queen, Captain Hook, Cinderella's wicked stepmother, Prince John, Gaston, Honest John and Gideon, Frollo, Darth Vader, Cruella De Vil and Constantine, the world's most dangerous frog.
Constantine's debut film, Muppets Most Wanted, was released in March 2014, and the DVD was released on August 12th, just a week and a half before "Villains Unleashed". To promote the film, Constantine's performer, Matt Vogel, appeared live at the event, in character.
At Constantine's meet and greet area, the frog was locked in a small jail cell, with the word GULAG stamped at the top. Guests spoke to Constantine through the bars, and posed for photographs. Several blogs describing the event mentioned that the line to meet Constantine was three hours long.
Two days after the event, on August 25th, Matt Vogel appeared live at Disney Hollywood Studios' Stage 1 Company Store, the gift shop located near the Muppet*Vision 3D attraction, to sign autographs and pose for photos.
External links