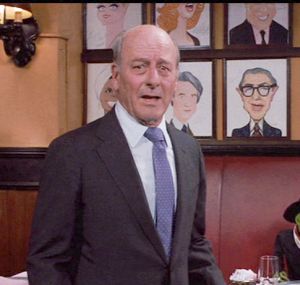 Vincent Sardi Jr. (1915-2007) was the long-time owner of the New York City restaurant Sardi's, founded in 1927 by his father, Vincent Sardi Sr. His association with the theatrical world earned him the nickname "The Mayor of Broadway." He made a cameo appearance as himself in The Muppets Take Manhattan.
Sardi Jr. had a reputation for banishing unruly patrons and a fastidious management style. He also had a special menu, with discounted entrees, available to working Broadway actors. Sardi co-authored several books about the restaurant's caricatures and Broadway, most notably Off the Wall at Sardi's.
Sardi's is also known for having been the birthplace of the Tony Awards, which were conceived over lunch at the famous restaurant. At the first ceremony in 1947, Sardi Sr. was given a Special Tony Award "for providing a transient home and comfort station for theatre folk at Sardi's for 20 years." In 2004, Sardi Jr. received a Tony Honor for Excellence in the Theatre. Following Sardi's death in 2007, the lights on Broadway briefly dimmed in his honor.
External links