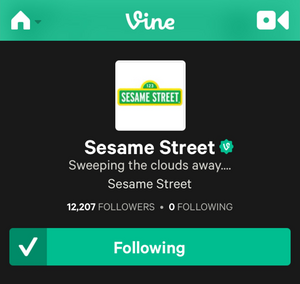 Vine was a short-form video sharing service where users could record, post and share six-second-long looping video clips. The service was founded in June 2012, and acquired by Twitter in October 2012, just before its official launch.
From 2013 to 2015, Sesame Street produced a variety of original 6-second videos for the service. Toyota hosted four Vines with the Muppets for a limited time in conjunction with their 2014 Toyota Highlander commercial. In 2015, ABC's The Muppets launched a Vine account to promote the series with 6-second episode clips and promos.
In October 2016, Twitter announced it would discontinue Vine, but keep existing Vines on the website for archival purposes.
Sesame Street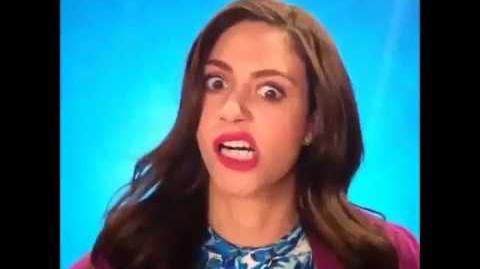 Gone in Six Seconds, starring Cookie Monster. #omnomnom
#stem #littlediscoverers
#stem #littlediscoverers
#sesamestreet #grover #near #far #loop
Emotional Chicken no. 1 - Excited. #bert #sesamestreet #excited
Cookie Monster wants to know "What does the fox say?" #sesamestreet #cookiemonster #whatdoesthefoxsay
What does a Monster say? #sesamestreet #whatdoesafoxsay #cookiemonster #loop
The letter 'P' is for popcorn...and penguin!! #sesamestreet #letterP #alphabet #loop
5 1/2 amazing characters performed by our late colleague and friend, Jerry Nelson! Check out a special Count episode on PBS tomorrow.
Don't forget to watch our special Count Von Count episode today on PBS honoring our late friend and colleague, Jerry Nelson. #sesamestreet
Happy Halloween from Astronaut Elmo!! #SesameStreet #elmo #halloween #martians
The Courteous Players no. 1. Check out Thursday's episode of #SesameStreet to learn more manners! #Murray #loop
Tap dancing chicken! For more musical birds, tune in to Thursday's episode of #SesameStreet #chickens #tapdancing
Number of the day - 6! Tune-in to tomorrow's episode of #SesameStreet on #PBS for more number 6 fun! #AbbyCadabby #Alan
It's almost time for the Macy's Thanksgiving Parade!! #MacysParade #SesameStreet
Abby is so excited for the Macy's Thanksgiving Day Parade to begin!! #SesameStreet
Happy Thanksgiving from Murray, @jimmyfallon, @questlove and Cookie Monster! #MacysParade #SesameStreet
The #MacysParade crowd is awesome!! #sesamestreet
A Thanksgiving tip from a turkey. #SesameStreet
Bert wants to join the marching band as a kazoo player! #MacysParade #SesameStreet
The #MacysParade is a perfect place for The Count to do his favorite thing...count! #SesameStreet
@JimmyFallon asks Cookie Monster what he's having for #Thanksgiving dinner! #SesameStreet
Grover is confused about which holiday it is! #HappyThanksgiving #SesameStreet
You shall not pass! @IanMcKellen and Gandalf wisely discuss manners. Tune-in to #SesameStreet on 12/12 to see our Lord of the Crumbs spoof!
Good things come to those who wait! Watch One Direction on #SesameStreet 's 45th season in fall 2014. We're really excited too!
Season's Greetings from Sesame Street! #merrychristmas #HappyNewYear
Happy birthday Elmo! #SesameStreet
Get a hug from Elmo! #happyvalentinesday
Happy President's Day! #SesameStreet #lincolnbeards
We're rooting for a strong finish for #TeamUSA at the #Sochi2014olympics !!
#doitforthevine with #Elmo and Peeples . #SesameStreet #CraigRobinson
Bert's ready for @comic_con! #sdcc #cosplay #Batman #bert #SesameStreet
The word from The Nerd Machine 's #NerdHQ is... #SesameStreet
Cookie Monster discovered the best @Comic_Con costume! #sdcc #SesameStreet #cosplay
To be blunt, Elmo had a blast with Emily Blunt!
It's fiesta time on #SesameStreet with the NBA 's Pau Gasol ! ¡Bailé!
We gave Zachary Levi a wand and a wish. What would you wish for if you had a wand?
45 years of friendship! #SesameStreet45 #BertAndErnie
Wendi McLendon-Covey reminds us to stay healthy during the holidays!
Happy Thanksgiving!
A special message from Maria and Mando from the Macy's Thanksgiving Parade!
Having a wonderful time at the #MacysThanksgivingParade !
Big Bird thought he'd be eating birdseeds at Hoopers...
Happy Thanksgiving from Bert and Ernie!
Cookie Monster can't wait for Christmas!
Elmo wants it to snow for Christmas. Abby obliges... kind of.
Mr. Adam Scott shows us his best grouchy faces!
More grouchy faces with our friend, Mr. Bill Hader!
Even Miss @EmmyRossum has grouchy faces!
Look! Mr. Ice Cube has some grouchy faces too!
We're ending this week with some awesome grouchy faces from Viola Davis!
The Cookie Thief, coming to PBS Kids on Monday, February 16th!
Cookie loves seeing all of the colors in this Degas painting!
Cookie Monster is officially on security duty... @metmuseum #cookiearttour
Happy President's Day! @MetMuseum #CookieArtTour #chewdunnit
#whip #naenae #grover
Toyota
External links
Community content is available under
CC-BY-SA
unless otherwise noted.