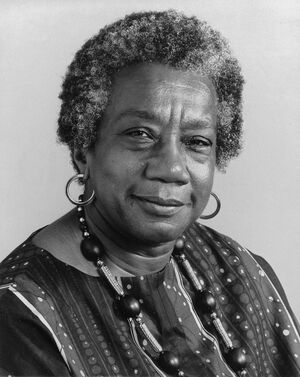 Vinnette Carroll (1922-2002) was a playwright, actress, and theatre director.
In Sesame Street's second and third season, she played a character called Lillian in Episodes 0240, 0337, and 0372.
Carroll was schooled in psychology before studying theatre, founded the non-profit Urban Arts Corps, staged a production of Dark of the Moon, and became the first African-American woman to direct on Broadway with her staging of the revue Don't Bother Me, I Can't Cope. She appeared in the 1956 Broadway revival of A Streetcar Named Desire and off-Broadway as Tituba in The Crucible. She directed her own adaptations of the Gospel of Matthew (Your Arms Too Short to Box with God) and Alice in Wonderland (But Never Jam Today).
Her screen credits include Alice's Restaurant (with Arlo Guthrie), The Reivers (scored by John Williams), Cotton Comes to Harlem (with Godfrey Cambridge and Cleavon Little), and the two-part All in the Family episode "Archie's Operation" as Dr. Wynell Thatcher.