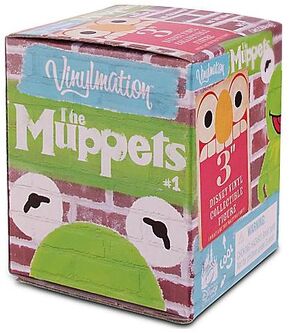 Vinylmation is a series of collectable designer toys sold exclusively at Disneyland and Walt Disney World beginning in 2008. The series features 3" and 9" figures shaped like Mickey Mouse. The Mickey figure is used as a blank three-dimensional canvas painted by Disney artists to resemble various characters and objects from Disney and Pixar's films, Disney's theme parks, and even abstract art.
Muppets have been featured regularly in the Vinylmation series, in many forms -- as 3-inch figures, 9-inch figures, and spinoff merchandise.
Park Series
Kermit the Frog appeared in the first set of 3-inch Vinylmation figures, Park Series #1. Kermit's distinctive eyes fill out the Mouse's ears, forming a memorable and slightly unnerving image. The "Kermit Mouse" design was also used on a Disney pin in 2008's Vinylmation Mystery Pin Collection.
In 2009, Park Series #3 included a 9-inch figure of Rizzo the Rat dressed as Mickey Mouse. Park Series #7 in 2011 included a 3-inch figure based on the hot-air balloon flying above the Muppet*Vision 3D attraction.
The Muppets Series #1 (2010)
"The Muppets Series #1" was released on February 8, 2010. The toys were designed by Disney Design Group artist Monty Maldovan, and the packaging by Disney Design Group artist Quynh Kimball. The packaging design was seen as an extension of the Muppet*Vision 3D attraction and surrounding area at Walt Disney World.[1]
The Muppets Series #2 (2011)
"The Muppets series #2" was released on April 15, 2011. That summer, four 9-inch figures were released: Sam the Eagle on June 24, Animal and Muppet*Vision Kermit on July 20, and Gonzo (packaged with a 3-inch Camilla the Chicken) on August 19.
The Muppets Series #3 (2013)
Fansites, Vinylmation Kingdom and Vinylmation World reported that a third series of Muppet Vinylmation figures, "The Muppets series #3" would be released on July 26, 2013. The 3" figures are once again all designed by Monty Maldovan.[2][3]
Spin-off figures
Outside of the regular Vinylmation series, there have been several Muppet-related special releases.
Disney pins
Vinylmation designs have also been used on Disney pins, another successful line of Disney Parks collectibles. Most of the Muppet Vinylmation designs have been released in pin form, with two sets of Muppet Vinylmation pins matching the two sets of 3-inch figures. These sets were sold in packs of seven pins -- each pack had the same set of six pins, with one blind-packaged "Mystery Pin".
See also
Sources
↑ Steven Miller, "Interview with artists Monty Maldovan and Quynh Kimball", Disney Parks Blog, February 17th, 2010.
External links
Community content is available under
CC-BY-SA
unless otherwise noted.