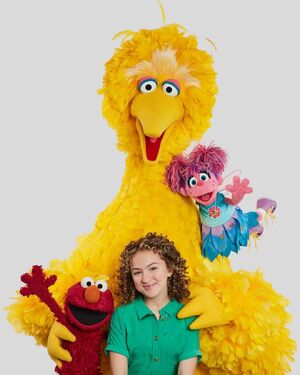 Violet Tinnirello (b. June 1, 2009) is an actor of stage and screen who plays Charlie, a human child character who debuted on Sesame Street in Season 50.
She appeared previously on the show as one of the kids in assorted episodes (including Episode 4902) and was credited as a "Child Extra" in the 2017 special, The Magical Wand Chase. Because she had spent the day with Jennifer Barnhart when filming the special, she was informed of her casting for the part by Zoe.[1] She additionally was a part of the cast's performance at the 2018 Macy's Thanksgiving Day Parade.
Her other roles include Penny in the film Cubby (2019), starring Danny DeVito and Rhea Perlman's daughter, Lucy DeVito.
Sources
External links