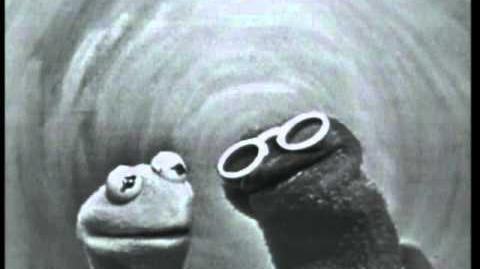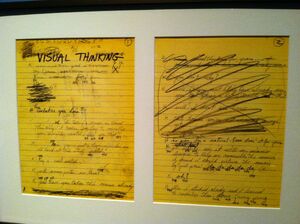 Visual Thinking is a Muppet sketch that originated on Sam and Friends and went on to feature in a number of appearances over the years. The concept consists of characters visualizing their thoughts with the aid of on-screen animation.
Sam and Friends
In this classic mix of puppetry and animation, Harry the Hipster demonstrates the art of Visual Thinking to Kermit the Frog; and what it does to you once it gets out of control.
This is one of the most well known Sam and Friends scenes that shows up in most documentaries. A clip was shown on The Muppets: A Celebration of 30 Years, revealing it to have been from 1959. The entire sketch was uploaded on The Jim Henson Company's YouTube Channel. It's one of the few videos on their channel to feature Kermit, since his rights are owned by The Walt Disney Company.
Kermit and Harry would re-enact the skit as a part of the unsold 1962 pilot for Mad Mad World.
Variations
The skit was remade for an Ed Sullivan Show appearance on October 2, 1966, with Kermit as the hipster and Grump as the straight man. The sketch was performed on Ed Sullivan again on June 4, 1967,[1] and on The Dick Cavett Show (with an updated Kermit the Frog) in 1971.
A Sesame Street sketch from the same year featured an Anything Muppet hipster and his square foil, demonstrating a similar lesson about shapes. (EKA: Episode 0448) According to the book Children and Television: Lessons from Sesame Street, "Visual Thinking" was also the inspiration for Sesame Street's "Speech Balloon" letter segments.
Sources
↑ "Jim Henson's Red Book" entry, 6/4/1967 – Sullivan "Visual Thinking"
External links