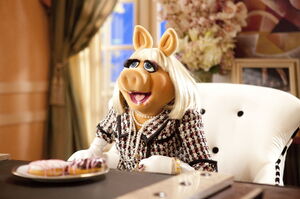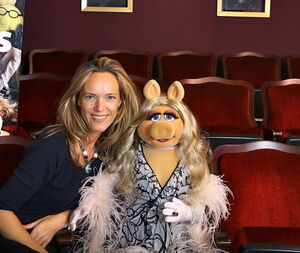 Vogue magazine has been published since 1892, Vogue Paris since 1920, and the British Vogue since 1916.
In 2002, Miss Piggy appeared in a commercial for the VH1 Vogue Fashion Awards, recalling her worst fashion moment:
"

Hmm, I don't have many, you know, but I once made the mistake of wearing DKNY, CK and BCBG all at the same time... Sheesh, all those letters, I looked like a train wreck on Sesame Street.

"
In The Muppets, Miss Piggy is fashion editor at Vogue Paris. In one scene, a mock Vogue Paris magazine can be seen in Miss Piggy's dressing room, featuring "Mademoiselle Piggy" herself on the cover. In an article reporting on Miss Piggy's part in the film, British Vogue dubbed it likely to be "one of the most fashionable films of 2012." In an interview with Perez Hilton, Piggy has contradicted this, saying that she edits the plus-sized section of a fashion magazine.[1]
The February 2012 edition of Vogue Germany featured an interview with Miss Piggy, conducted by editor Antonia Steffens in L.A., in which Miss Piggy talks about her relationship with Kermit, other "boyfrogs," her favorite designers and fashion secrets.
Vogue's UK website has covered various Muppet appearances, primarily centered around Miss Piggy.[2][3][4]
References
Sources
External links
Community content is available under
CC-BY-SA
unless otherwise noted.