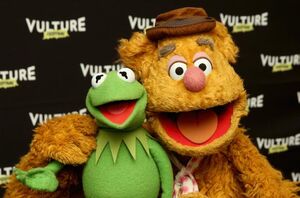 The Vulture Festival is an event held by New York magazine's Vulture blog featuring a number of entertainment screenings, interviews, and discussion panels with professionals in the entertainment industry.
Appearances
The 2016 festival, held on May 21st and 22nd, featured a panel with Steve Whitmire, Eric Jacobson, Peter Linz, Kermit the Frog, Fozzie Bear, and Animal. Kermit and Fozzie were interviewed by Chris Bonanos before Whitmire and Jacobson were presented separately. Members of the audience (including Tau Bennett) were invited onstage to participate in a puppet workshop in which various characters (Kermit, Animal, Debbie, J. G., two Whatnots, and a dog) lipsynched to Chumbawamba's "Tubthumping".
External links
Community content is available under
CC-BY-SA
unless otherwise noted.