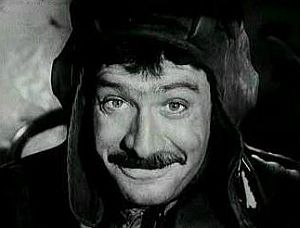 Włodzimierz Press (b. 1939) is a Polish voice actor who dubbed Kermit the Frog on Ulica Sezamkowa, the Polish co-production of Sesame Street, and Muppety z Kosmosu (Muppets from Space).
Press' other dubbing credits include Sylvester in Looney Tunes productions, Greedy Smurf on The Smurfs, Julius Caesar in two Asterix films, Robert Picardo on Star Trek: Voyager, and Timothy Spall in Lemony Snicket: A Series of Unfortunate Events and the Harry Potter films. His on-camera credits inlude roles in several World War II historical dramas, including Westerplatte (1967), Europa Europa, Korczak (both 1990), and the 2005 mini-series Auschwitz: The Nazis and the "Final Solution" (as Slovakian Prime Minister Vojtech Tuka).
External links
Community content is available under
CC-BY-SA
unless otherwise noted.