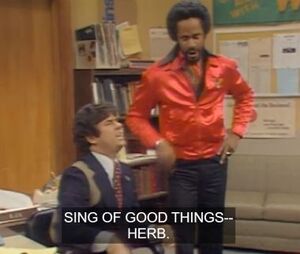 WKRP in Cincinnati is a sitcom produced by MTM Enterprises, centered around a rock-and-roll radio station, which ran from 1978 until 1982 and spawned the syndicated sequel The New WKRP in Cincinnati (1991-1993). The most famous episode involved a failed Thanksgiving promotional event when station manager Mr. Carlson learns that, despite his belief, turkeys can't fly.
Muppet Mentions
In the first season episode "A Commercial Break," Venus Flytrap and Herb Tarlek are auditioning jingle singers for an in-house commercial, and trying to coax shy Bailey Quarters into singing.
Venus: Come on, sing. Sing a song!
Herb: Yes, Bailey. Sing out loud! Sing out strong! Sing of good things...
In the third season episode "Venus and the Man," the closing scene has Venus putting on Della Reese's cover of "Bein' Green," from her 1973 album Let Me in Your Life.
Connections