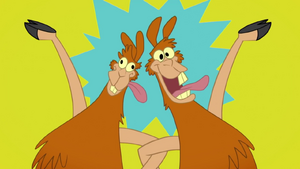 Wacky Alpaca Pals is a cartoon franchise on Muppet Babies, regularly enjoyed by the Muppet Babies.
Posters of the alpacas adorn The Nursery, Baby Fozzie owns an alpaca lunch box, and wears an alpaca pajama shirt at night.
When the Muppet Babies have a sleepover in "Wocka by Fozzie," Miss Nanny entertains them with the movie "The Wacky Alpacas Eat Spaghetti 2," in which alpaca Walter (voiced by Dee Bradley Baker) tries to bring his alpaca girlfriend Wanda (voiced by Melanie Harrison) a plate of spaghetti without letting pigeons get to the food first.
In "Best Pals Pizza Delivery," Kermit uses his imagination to appear on the cartoon. As the scenes in Alpacaville are usually 2D-animated, they also feature Kermit in his classic Muppet Babies design from the 1980s (from his white-and-blue sailor outfit, down to the catchlights used in his eyes on the original).