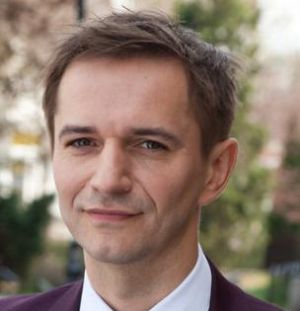 Waldemar Barwiński (b. 1973) is a Polish voice actor who dubbed Scooter in Muppety (The Muppets) and subsequent projects. He previously dubbed Pip for 33 second season episodes in Niedźwiedź w dużym niebieskim domu (Bear in the Big Blue House), Gonnigan on Abby's Flying Fairy School, and Ben Stiller in the TV airing of the video Sesame Sings Karaoke.
Barwiński dubbed Martin Freeman in The Hobbit movies and Captain America: Civil War, James McAvoy in the X-Men movies, Jim Carrey in Mr. Popper's Penguins, Joel McHale in Spy Kids: All the Time in the World , Richard LeParmentier in Star Wars, various roles in Life of Pi, and Joe Pantoliano in The Goonies. TV dubbing includes several guest actors on The Suite Life of Zack and Cody and Matthew Scott Morgan on So Random.
Feature animation credits include the title role in Wall-E and Fix-It Felix in Wreck-It Ralph, while series credits include Batman: The Animated Series (as Scarecrow and others), Justice League (Hawkman and Brainiac 5), Garfield, and Pokémon (Brock in later seasons).
External links