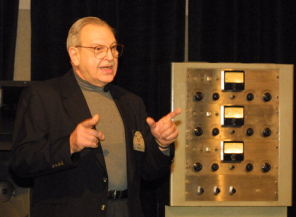 Walter Sear (1930-2010) was a composer and theremin player known for his experimentation with electronic sound, and was a colleague of music pioneer Bob Moog. He composed the soundtrack for Jim Henson's 1969 experimental TV drama The Cube.
Sear's film credits range from playing on the soundtrack of Midnight Cowboy to scoring B horror films with titles like Zombi Holocaust and Blood Sisters. His studio, Sear Sound, has provided mixing for such diverse recording artists as David Bowie, Paul McCartney, Wynton Marsalis, and Norah Jones. Sear also wrote an album of Moog pop songs called The Copper-Plated Integrated Circuit.
External links
Community content is available under
CC-BY-SA
unless otherwise noted.