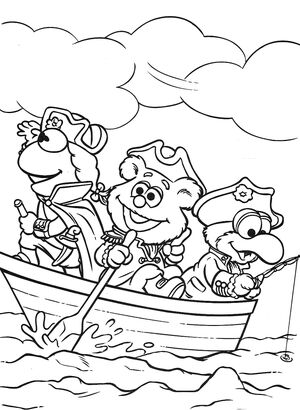 Washington Crossing the Delaware is an 1851 oil painting by German-American artist Emanuel Leutze. It is in commemoration of Washington's crossing of the Delaware on December 25, 1776, during the American Revolutionary War. Part of the permanent collections of the Metropolitan Museum of Art, it has been parodied by the Muppets on multiple occasions.
References
Lydia features a tattoo of Washington Crossing the Delaware.
Kermit the Frog dressed as Washington crossing the Delaware (in a recreation of the New Jersey state quarter design) to promote the United State Mint's US State Commemorative Quarter program in 1999. A TV commercial for the program, depicting the scene, followed in 2001.
A Sesame Street cartoon features Washington trying to even out the number of mates on each side of his boat. The segment ends with a shot from the actual painting.
The Cookie Thief features a spoof of the painting called "Cookies Crossing the Delaware."
Community content is available under
CC-BY-SA
unless otherwise noted.