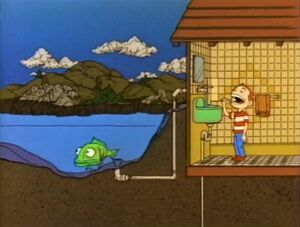 "Water Conservation" is an animated Sesame Street segment produced by the animation company, Klasky Csupo. (First: Episode 2689) It was directed by Peter Chung, with character designs by Everett Peck.[1]
The cartoon features Frank the Fish, who happily swims in his pond next door to Carl's house. Carl, a young boy, goes to brush his teeth and wash his hands, leaving the faucet running as he does so. The pipes drain the water from Frank's pond, giving him less and less swim room. He telephones Carl to turn off the water, which Carl does, apologizing for his carelessness. Frank, now with only a small amount of water left, reminds him not to waste water.
The segment originally featured a longer ending, featuring Carl's reaction to the environmental message, but it was cut out of the broadcast version.[1] It did, however, appear in episode 2870, where the cast watches it on TV at Hooper's Store.
Releases
Online
Sources