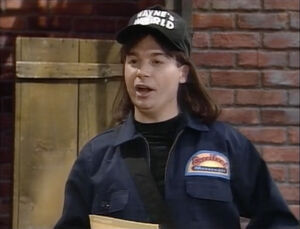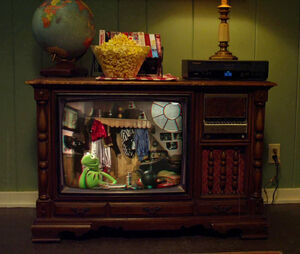 Wayne's World is a 1992 American comedy film directed starring Mike Myers and Dana Carvey. The film was adapted from a series of sketches of the same name on NBC's Saturday Night Live; and was later followed by the 1993 sequel Wayne's World 2.
References
A 1995 episode of Sesame Street featured a spoof of the recurring Saturday Night Live sketch (and films) "Wayne's World", entitled "Telly's Town". In the episode, Telly and Big Bird put on a show similar to "Wayne's World" - and acting similar to Wayne and Garth. Mike Myers (as Wayne) appeared as a tuba deliveryman in the episode, as well. A monster resembling Garth appears at the end of the episode, playing in the band.
In The Muppets, Walter and Gary have a copy of Wayne's World on VHS.
Connections
Community content is available under
CC-BY-SA
unless otherwise noted.