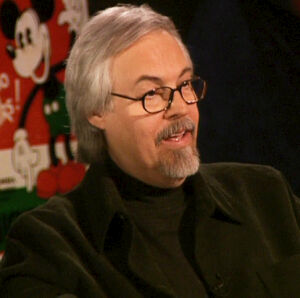 Wayne Allwine (1947-2009) was a voice actor and sound effects artist/editor who had been the official voice of Mickey Mouse since The New Mickey Mouse Club in the 1970s. Allwine performed Mickey's voice in the 1990 TV special The Muppets at Walt Disney World.
Mickey and Kermit also spoke via Picture Phone in the Here Come the Muppets stage show at Walt Disney World. In the Disney theme park film Muppet*Vision 3D, the character Waldo C. Graphic morphs into Mickey Mouse at the end, who then speaks with Allwine's voice.
Allwine was married to Russi Taylor, who voiced Baby Gonzo on Muppet Babies and was the voice of Minnie Mouse until her death in 2019.
External links