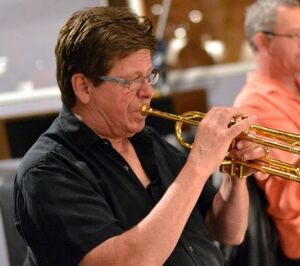 Wayne Bergeron (b. 1958) is a Los Angeles-based trumpet player who played on the scores for The Muppets Wizard of Oz and the 2011 film The Muppets. He also played on the 2001 Sesame Street album Kids' Favorite Songs 2 as well as soundtracks for the Creature Shop-effects films Dr. Dolittle and George of the Jungle.
Bergeron was first trumpet with Maynard Ferguson's band and has been a busy session musician since the 1980s. Recordings included sessions backing Joe Cocker, Ray Charles, Weird Al Yankovic, Robbie Williams, Rosemary Clooney, Lynda Carter, Vikki Carr, Lorraine Feather, Vince Gill, and Barry Manilow.
Bergeron played on the soundtracks of The Notebook, Paycheck, Dreamgirls, Night at the Museum: Battle of the Smithsonian, Mr. Magorium's Wonder Emporium, Spider-Man, Bridge of Spies, The Green Hornet, and Watchmen. In animation, he was heard on Pixar's The Incredibles, Ratatouille, and Finding Dory, as well as Frozen and Minions. For television, he played trumpet on Family Guy, Batman: The Brave and the Bold, Galavant, and Marvel's Agents of Shield.
External links