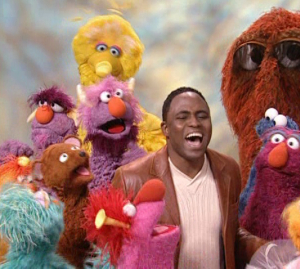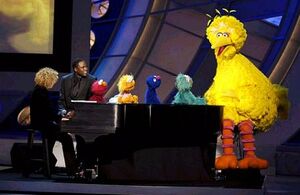 Wayne Brady (b. 1972) is an actor, singer, television personality and comedian. He is best known for his work on the American version of the improvisation show Whose Line Is It Anyway?, where he particularly excelled at improvisational singing. His daytime talk show, The Wayne Brady Show, aired from 2002 to 2003.
Brady went on to appear in the Broadway revival of Chicago, on ads for CoffeeMate, and as the host of TV Land's That's What I'm Talking About (2006), a three-episode talk show which discussed the role of blacks in the entertainment industry. He is the current host of Let's Make a Deal on CBS, and his animation voice credits include Sofia the First and The Loud House.
Muppet/Sesame appearances
2002
2003
Brady appears in Sesame Street Episode 4052 where he pretends being a rock star, a ballerina, and a giant talking chicken to get the viewers to like him, but Elmo convinces him that he should just be himself.
Bear appears on The Wayne Brady Show during the host's American teacher celebration.
Kermit and Miss Piggy appear on The Wayne Brady Show to promote the DVD release of It's a Very Merry Muppet Christmas Movie. Brady, Kermit and Piggy perform "Brick House" together.
2004
2006
External links
Community content is available under
CC-BY-SA
unless otherwise noted.