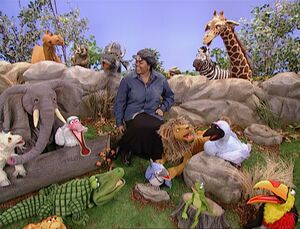 "We Are All Earthlings" is a song about the various kinds of creatures that live on Earth. It is sung by a boy and Elmo, with several animals, including Little Bird, Poco Loco, Chicago the Lion, a fish, a goat, a turtle, a robin, a frog, and a toucan.
The song was performed again in 2002 by Jill Scott and some more animals, including Chicago, a zebra, a giraffe, a gnu, a raccoon, a spoonbill, an elephant, and others. (First: Episode 3981) Later that year, the cast performed the song in the Macy's Thanksgiving Day Parade.
Also in 2002, a portion of the song was used, as sung by Elmo, in a spot for PBS in preparation for Earth Day. An extended version was later used as a general PSA about talking to kids, including vocals with Big Bird (in the original version of the song, Big Bird can be seen in his nest in a clip).
This song was also sung by the cast of Plaza Sésamo in Episode 828, with the song renamed "Planeta Tierra," which means "Planet Earth."
Notes
Performers in the original version include Jerry Nelson (the boy), Kevin Clash (Elmo), Fran Brill (Little Bird), Martin P. Robinson (the fish), Jim Martin (the goat), David Rudman (Chicago), Bryant Young, Carmen Osbahr, Pam Arciero, Ed Christie, Kathryn Mullen, Joey Mazzarino, Peter MacKennan, Camille Bonora, and Richard Hunt.[1]
In international versions of the segment, the clip of Big Bird was plastered with an alternate clip of a chick hatching from an egg.
Releases
Audio
Original:
Sesame Street LIVE:
Video
Original:
Jill Scott:
Online
Publications
Sources
↑ 1.0 1.1 Documents provided by trusted source
Community content is available under
CC-BY-SA
unless otherwise noted.