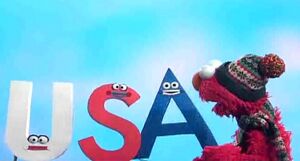 We Are One: The Obama Inaugural Celebration at the Lincoln Memorial was a live event held at the Lincoln Memorial on January 18, 2009. 400,000 people gathered on the Mall in Washington, D.C. for a concert and series of speeches from a number of celebrities to celebrate the inauguration of Barack Obama as President of the United States two days later.
Before the concert began, and during breaks, large monitors were used to excite the audience. In a video shot for the occasion, Elmo and a Muppet number 1 led the audience in a chant: "We are one!"
In another special video produced for the occasion, Elmo appeared with the letters U, S, and A; and led the audience in a cheer for the U.S.A..
Rosita also appeared in pre-concert segment with Elmo. Elmo explained that in an effort to make the event more balanced and bipartisan, he (a red monster), brought in Rosita (a blue monster). After a brief quarrel as to how the two would proceed, the pair agreed to lead the crowd in singing "Yankee Doodle Boy".
Other performers at the event included Denzel Washington, Bruce Springsteen, Jamie Foxx, Renée Fleming, Tom Hanks, Marisa Tomei, James Taylor, John Legend, Queen Latifah, Herbie Hancock, Sheryl Crow, Jack Black, Garth Brooks, Forest Whitaker, Stevie Wonder, Samuel L. Jackson, and Pete Seeger.
External links