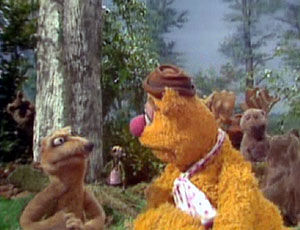 Some of the first Muppet weasels were seen in Emmet Otter's Jug-Band Christmas. The weasel guitar player of the Riverbottom Nightmare Band was the most prominent.
A larger brown weasel became one of the woodland creatures on The Muppet Show (first seen in episode 502). In episode 503, he was featured in one of Fozzie's jokes as the "5 o'clock weasel."
In episode 321, Rowlf played the song "Pop Goes the Weasel" (sans the weasel) on the piano.
A character named Joe the Legal Weasel was introduced to The Muppets in 2019, ahead of the Disney+ series Muppets Now, although he is actually recycled from The Muppet Show Prairie Dogs rather than any design previously used for Muppet weasels.