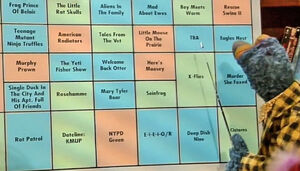 Welcome Back, Kotter is a television sitcom which aired on ABC from 1975 to 1979. The show followed Mr. Kotter (played by Gabe Kaplan), a teacher who returns to his high school alma mater in New York City to teach a class of remedial students, known as the "Sweathogs". The series turned John Travolta into a teen idol.
The theme song was ranked by TV Guide as one of the 50 All-Time Favorite TV Themes, and the character Vinnie Barbarino was ranked as #83 in Bravo's 100 Greatest TV Characters.
References
Muppet Mentions
Connections
External links
Community content is available under
CC-BY-SA
unless otherwise noted.