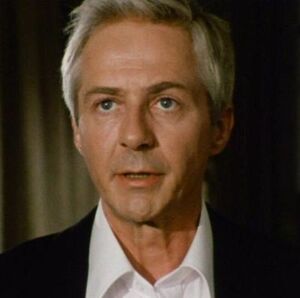 Werner Bruhns (1928-1977) was a German actor who specialized in dubbing, including the direction and script translation sides. He worked on Sesamstrasse in all three capacities: as the voice of Sherlock Hemlock (Sherlock Humbug) in the early seasons, directing the dubbing for certain episodes, and adapting American skits and songs, including lyrics for "Bein' Green," "I Love Trash," "Everyone Makes Mistakes," "The People in Your Neighborhood," and others.
Bruhns was a Hamburg-based actor who began on stage before freelancing as an actor and announcer on radio network NWDR in 1949. He was also heard on RB (Radio Bremen), SDR, and others in the 1950s and '60s, including Gilles de Rais in a 1959 version of George Bernard Shaw's Saint Joan. As a dubbing actor, he was the German voice of Mike Connors on Mannix, Michael Hordern in the 1951 A Christmas Carol, Hugh O'Brian in The Life and Adventures of Wyatt Earp and Ten Little Indians, Donald Sinden in Josephine and Men, and various guest stars on Bonanza.
On camera, he appeared in the German films Der Stern von Afrika (1957) and the 1973 exploitation feature Magdalena, vom Teufel besessen, as well as televised plays of Look Back in Anger, Golden Boy, and The Caine Mutiny Court Martial. He had supporting roles in two international, English language films, The Odessa File (with Jon Voight) and 1900 (as Robert DeNiro's Italian uncle). Series TV work included appearances on most of the German crime and spy series, including Tatort, Derrick, Das Kriminalmuseum, Die fünfte Kolonne (The Fifth Column), and Der Kommissar.
External links