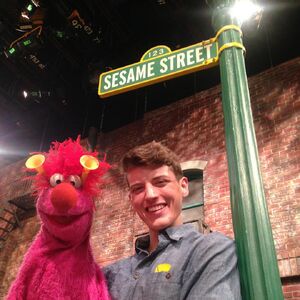 Weston Chandler Long is an actor, singer, and puppeteer based in New York City.
Long began his work as a Muppet Performer during season 48 of Sesame Street,[1] and later performed as a part of the show's pre-taped musical number in the 2019 Macy's Thanksgiving Day Parade.[2] Similarly, he puppeteered Sweetums for the Muppets' opening number for the 2016 Macy's Thanksgiving Day Parade.[3]
Long's additional credits include the national tour of John Tartaglia's ImaginOcean, the Off-Broadway productions of The Very Hungry Caterpillar Show and All Hallow's Eve (directed by Martin P. Robinson), and a regional production of Avenue Q.
Sources
External links