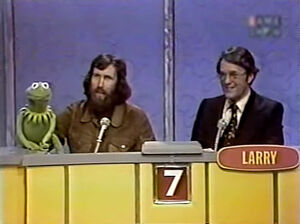 What's My Line? was a game show which ran from 1950 to 1975, originally on CBS and later in syndication. Contestants would ask "yes" or "no" questions of a contestant in order to guess their occupation. After the second contestant in each program, a "mystery guest" would be featured in which the panel was blindfolded and the object was to identify the guest. Bennett Cerf, father of Christopher Cerf, was a regular panelist.
Appearances
Caroll Spinney played the game in a 1972 episode dressed as Big Bird, then talked with the panel out of costume at the end.
Jim Henson appeared with Kermit on an episode that aired November 16, 1974. Panelists included Arlene Francis, Dr. Joyce Brothers, Jack Cassidy and Soupy Sales. The following mystery guest was Dick Cavett.
References
The series was also spoofed on Sesame Street with a sketch called "What's My Part?"
Connections
The Muppets and What's My Line? operated in similar early-70s show-biz circles, so it's not surprising that they shared many of the same guest stars.
What's My Line? panelists and guests included the following people who also have connections to the Muppets:
Panelists
Mystery Guests