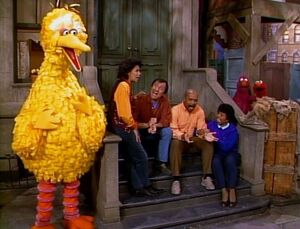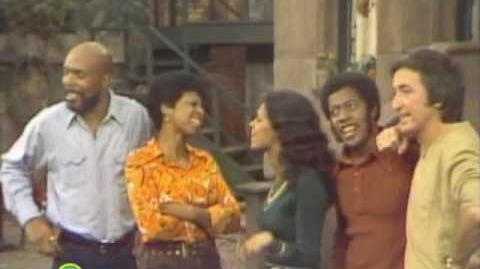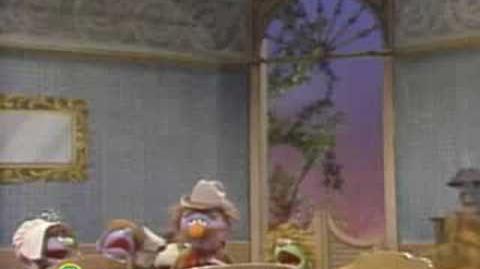 "What's the Name of That Song?" was first performed by the Sesame Street cast in Episode 0666. It has been performed many times since. It is best known for its recurring "la-di-da-di-dum"'s .
The cast sang this in the finale of Sing Along, and it was also used as a plotline in the self-titled What's the Name of That Song?, in which Oscar the Grouch played an instrumental version of this tune, causing Big Bird to struggle to find out the name of the song. By the end of the video, Grover revealed that this was his favorite song (though he initially didn't know the title either), and then the cast sang this song.
This song was also sung by the cast, led by Lillian, in an insert taped for season 23 (which didn't air until the following season in Episode 3079).
It was featured in the first edition of Sesame Street Live.
Gina, Herry Monster, Zoe, Rosita and some kids sing the song in Episode 3777 in season 29.
A remake of the song was performed in a sketch with Ernie and Bert singing at nighttime, and another remake was performed in a western sketch with Forgetful Jones (First: Episode 1696).
The song was used on 5, Rue Sesame as "Le Chanson de l'Amitié" with lyrics by Alexandra Pic. It was released on the album Sesame Street Playground in 2008.
An animated dance remix music video was posted on Sesame Workshop's YouTube channel in 2019, combining vocals from the original version and the version from Bert & Ernie Sing-Along with new dance remix music.
Releases
Audio
Video
Online
Publications