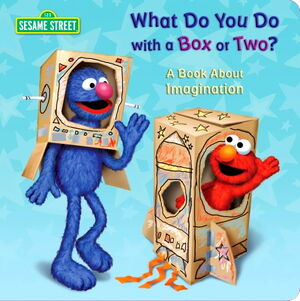 What Do You Do with a Box or Two? is an unpublished Sesame Street storybook about imaginative play. Publisher Random House listed the book on the Random House website in early 2010, stating that the book would be released in July 2010. The book was written by Naomi Kleinberg and illustrated by David Dees.
According to the publisher's description, the book shows Sesame characters playing pretend games with cardboard boxes. Elmo, Grover and Telly Monster turn some large boxes into a rowboat and a spaceship. Big Bird's tricycle becomes a race car, Elmo's plastic pail is a sailboat, and Baby Bear goes on a pirate adventure with his little sister.
The book was removed from the publisher's listings, and has not been released.