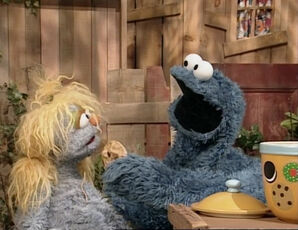 "What is Friend?" is a Sesame Street song sung by Cookie Monster in the early 1990s.
At the beginning of the segment, Cookie Monster announces that it is snack time for him and his friend (performed by David Rudman), but there ends up being only one cookie left. Cookie Monster then sings about friendship, wondering what to do about the situation, and by the end, Cookie Monster gives his friend the cookie. Although the friend suggests sharing the cookie, Cookie Monster opts to eat the brick wall they were standing behind.
In 2000, this song was remade on the Street set with Lulu and Cookie Monster. This new version was slightly slower than the original version, had a rather different melody and, instead of devouring something else, when Cookie Monster gives his last cookie up, he remarks, "Me feel strangely okay about this." (First: Episode 3885)
The 2000 version was also featured over footage of two kids being friends. (First: Episode 3886) A clip of this version was seen in the timeline sequence of The Street We Live On.
Notes
The original version was directed by Jon Stone and taped on January 18, 1991. The remake was directed by Emily Squires and was taped on December 3, 1999.[1]
Releases
Video
Online
See also
Sources