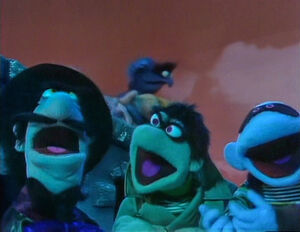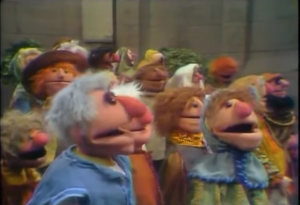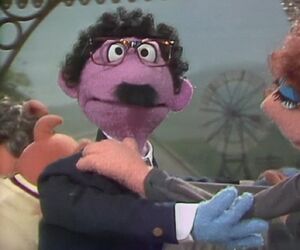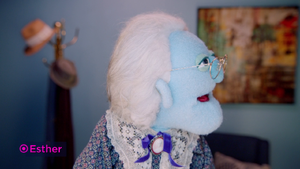 Whatnots are blank Muppet heads, onto which facial features, bodies, and clothes are added to make any kind of character in the Muppet Show universe. A similar group of Muppets known as Anything Muppets appear on Sesame Street.
The concept of a blank-faced puppet with interchangeable facial features and ever changing personalities originated in the "A Change of Face" routine performed on several occasions in variety shows during the 1960s, usually with The Southern Colonel. The same puppet would be recycled during the first season of Sesame Street, assuming the guises of Jack and the initial version of Granny Fanny Nesselrode.
A new batch of skin-toned utility puppets would be introduced in The Great Santa Claus Switch and used as patterns for the Elves. These puppets would be used as the peasants in The Frog Prince and the human prisoners from the "Return to Beneath the Planet of the Pigs" in The Muppet Show: Sex and Violence, as well as for individual characters such as Wally and Leo.
In The Muppet Show, many varieties of Whatnots would be introduced. There were primarily three different groups of Whatnots that were introduced throughout the show. In the first two seasons, the Whatnots mostly had basic face shapes with snouts rather than individual noses, such as Gogolala Jubilee Jugband. Later in the series, four new Whatnots were added, three of which had a cymbal shape to them and one large jawed Whatnot that would be later used as the base of Lew Zealand. Other notable recurring Whatnot characters include Marvin Suggs and Bobby Benson.
Other new Whatnot patterns would be seen in following Muppet productions and used both as "utility" Muppets and recurring characters: Muppets Tonight features Whatnot characters such as Zippity Zap and Bill the Bubble Guy, the Muppet Meeting Films had Franklin and Shirley, and From the Balcony had Larry and Oliver.
In 1993, Playskool released a series of toy Muppet Workshop Puppet Kits based on the concept of Whatnot Muppets.
In 2008, FAO Schwarz in New York City opened The Muppet Whatnot Workshop, an interactive puppet creation display that remained in operation until 2015. For promotion of the workshop, the Muppets (led by the Whatnots) took over the Today Show on November 13, 2008.
Additionally, Muppet Whatnot Workshop kits were sold through Toys R Us stores in late 2011 to coincide with the promotion for The Muppets.
See also