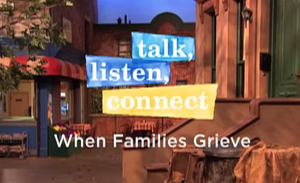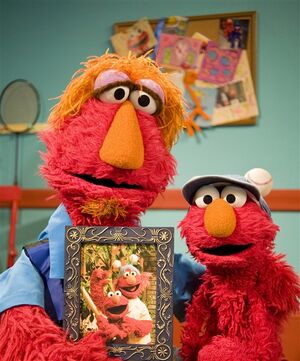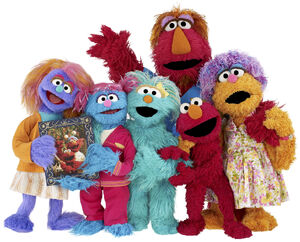 When Families Grieve is a 2010 Sesame Street outreach video produced as part of their Talk, Listen, Connect series. The 28-minute video features an original Muppet storyline, as well as documentary segments featuring real families.
In the video, Elmo and his parents (along with Rosita) join his cousin Jesse and Aunt Jill for a picnic in the park, as they all cope with the recent passing of Elmo's Uncle Jack.
Select clips from the video were featured in the prime time special of the same name.
Cast
Starring the Muppets of Sesame Street:
With the Sesame Street Muppet Performers:
Crew
Co-Executive Producer: Kevin Clash
Written by Christine Ferraro
Directed by Kevin Clash
Senior Creative Consultant: Kevin Clash
Jim Henson's Creature Shop Workshop Crew: Jason Weber, Connie Peterson, Rollie Krewson, Polly Smith, Michelle Hickey, Heather Asch, Lara MacLean, Marc Borders, Molly Light, Colette Nickola, Loryn Brantz
"Give Your Heart a Little Time" music and lyrics by Mark Radice, sung by Mark Radice and Kathryn Raio
"Proud" music and lyrics by Mark Radice
Sesame Workshop Executive Vice President, Education, Research and Outreach: Lewis Bernstein, Ph.D.
Associate Director: Ken Diego
Production Designer: Victor DiNapoli
Graphic Designer: Peter Ortiz
Vocal Coach: Paul Rudolph
Cameras: Jerry Cancel, Shaun Harkins, Frank Biondo
Sound Effects Editor: Dick Maitland, C.A.S.
Storyboard Artist: Louis Henry Mitchell
External links