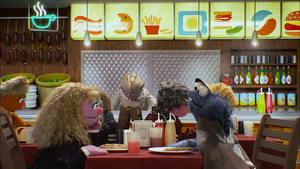 When Harry Met Sally is a 1989 romantic comedy, which starred Billy Crystal and Meg Ryan as the titular Harry and Sally. It was directed by Rob Reiner. The story follows Harry and Sally from their first meeting on a road trip from Chicago to NYC after graduating from college, through incidental encounters over the years, a friendship, and eventually a romantic relationship and marriage 12 years after they first met.
References
In Episode 103 of Muppets Tonight, Miss Piggy auditions for the role of Sally opposite Billy Crystal as Harry in When Harry Met Sally. The screen test parodies the scene in the film in which Harry and Sally discuss whether men can tell when a woman fakes an orgasm. In this version, however, the question is whether men can tell when a woman fakes a sneeze.
The screen test, which opens with a Muppet parodying director Rob Reiner, shows Billy (as Harry) telling Piggy (as Sally) over dinner that his date canceled the previous night because she had a cold, Piggy proposes that she might have faked a sneeze to get out of the date. Billy dismisses this, as he is pretty sure he can tell the difference between a real sneeze and a fake one. But to prove him wrong, Piggy proceeds to perform a fake sneeze, taking her time with the "aaah"s (as opposed to the "choo!") so that her performance mirrors Meg Ryan's fake orgasm in the final film. This causes one of the other diners to say, "Waiter, I'll have what she's having, only less pepper," parodying the famous line uttered by Reiner's mother.
In the Elmo's World episode "Hair," the Hair Channel advises viewers to stay tuned for "When Hairy Met Sally."
Connections
External links