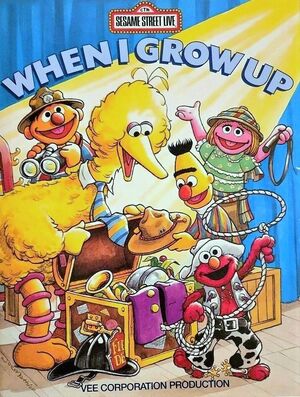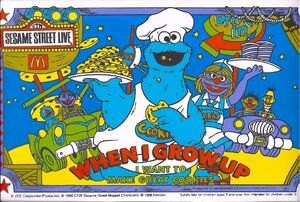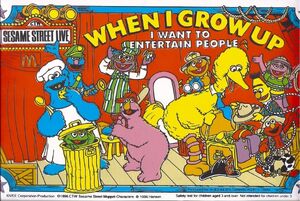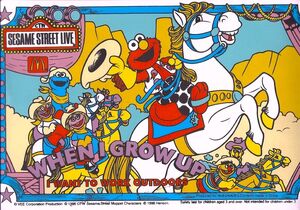 When I Grow Up is a Sesame Street Live show that was first produced by VEE Corporation for the 1993-94 season. It was repeated in the 1995-96 season.
Prairie Dawn directs a pageant about what everybody on Sesame Street wants to be when they grow up. The whole cast is featured in big song and dance numbers about their dream jobs.
Betty Lou wants to be an astronaut, Grover wants to be a policeman, Bert and Ernie choose forest rangers. Telly Monster wants to be a baseball player, although the Count counts 700 strikes before Telly hits the ball. Cookie Monster wants to be a cook, and open the world's first drive-in cookie restaurant. Elmo starts out wanting to be a cowboy, but as he sees everyone else's choices, he wants to be everything at once.
Oscar the Grouch refuses to participate, claiming that he thought the theme was "When I Throw Up". Grundgetta ropes Oscar into her ballet act, fitting a tutu around his trash can and performing a dance from "The Nutcracker" with her unwilling partner.[1]
Big Bird is so busy helping others that he doesn't have time to choose a job. In the end, Prairie Dawn makes Big Bird the director.
The show was revived in 2007 as When Elmo Grows Up.
This is the first Sesame Street Live production to introduce Rosita in the cast.
Scenes
ACT ONE:
When I Grow Up (by the whole gang)
Sing After Me (Big Bird with Bert, Ernie and the Audience)
Elmo's Cowboy Number
Walk, Do Not Run! (Grover as a policeman)
Bert and Ernie's Scout Number
There's Nothing We Women Can't Be (Rosita, Prairie Dawn and Zoe)
Cookie's Cookie Drive-in Number
ACT TWO:
Telly as Mr Baseball
Roxie Marie's Train
I Love Trash (Oscar and the gang)
Amigo (Rosita as a Spanish teacher)
When I Grow Up (Reprise)
Cast
Big Bird, Oscar the Grouch, Grundgetta, Prairie Dawn, Elmo, Grover, Bert, Ernie, Count von Count, Cookie Monster, Telly Monster, Roxie Marie, Betty Lou, Rosita, Honkers, Zoe, Amanda (1993).
Performers
International
In May 2001, this show was performed in the Netherlands for Sesamstraat's 25th anniversary, as Als Ik Later Groot Ben. A few changes were made: Telly was featured as a soccer player instead of a baseball player (since soccer is played more often in The Netherlands), and Pino made a couple of introductions.
Sources
↑ "A New Song Heard on Sesame Street", Steve Parks, Newsday. September 10, 1993.
Community content is available under
CC-BY-SA
unless otherwise noted.