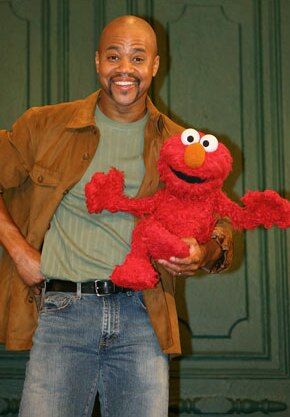 When Parents Are Deployed is a television special produced by Sesame Workshop that focuses on the educational and emotional needs of children with parents and caregivers deployed by the military.
The special premiered on December 27, 2006, at 9:00 pm on most PBS stations. However, airtimes varied, with some stations choosing to air the program at other times and others showing it two or even three times throughout the night. It re-aired on PBS in April 2009.[1]
The special, hosted by Cuba Gooding, Jr., is targeted at educating adults about the issues and effects of parental deployment on children, rather than targeting the affected children and their parents (which has been addressed in the special Talk, Listen, Connect support material). Apart from the new framing footage with Gooding, the special contains the Muppet scenes from the Talk, Listen, Connect video, featuring Elmo and his Dad. The special also included interview with affected families, and specialists.
This special presents three stages of deployment, which are as follows:
Stage One: Preparing for Deployment
Stage Two: Staying Connected
Stage Three: Homecoming
The Spanish dub of the special, Cuando el servicio llama: Vivencias de familias militares was created in 2007, with Gaby Rivero as host. The special aired on public television station V-me over the Memorial Day weekend: May 26, May 27 and May 28.[2]
The speicals was nominated for a Primetime Emmy in 2007 for "Outstanding Children's Program".
Songs
Cast
Location cast at McGuire Air Force Base, New Jersey
The Keefer, Kelly, Roth, White, Chaudhary, Elson, Finklea, Hall, and Peeler families
The Harris-Tomlin, Kite, Lopez, Mace, and Rogers families
Crew
Celebrity Casting by Bella Harkins
Special Thanks to the team at the McGuire Air Force Base, New Jersey
Eric L. Saks, 1Lt. USAF
Rachel M. Martinez, SRA, USAF
Alice Rose
Special Thanks to the Morale, Welfare & Recreation Staff at Fort Bragg, North Carolina
Karen L. Miller
Sandra McMillan
Gloria Tapp
Victoria Russell
Jeralene Gerald
Geraldine Maynard
Kava Carrier
Patricia McCormick
Additional Credits
Sources
External links