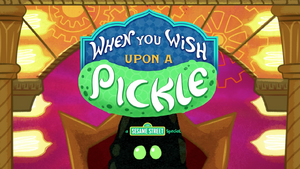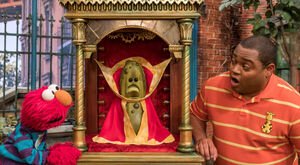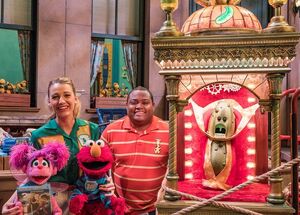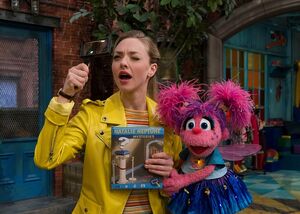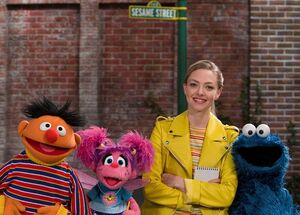 When You Wish Upon a Pickle is a Sesame Street prime time special that aired on HBO on November 10, 2018. The special helps kick off the 49th season, which began the following Saturday.
The special features celebrity appearances by Amanda Seyfried (as Natalie Neptune) and Blake Lively (as the delivery person).
A trailer for the special was released on October 27, 2018, done in the style of a 1980s infomercial.
The special received an advanced screening at Kidville Union Square in New York City on November 10.[1]
Press kit description
"

In When You Wish Upon a Pickle, a mysterious wish machine appears on Sesame Street and the magical pickle inside starts granting wishes. Before long, the gang learns they need to be careful what they wish for – especially when they find out he'll only grant one wish per customer! When Elmo wishes to be a grown-up and run Hooper's Store, he switches bodies with Chris. When Ernie tries to help his friend achieve his dream of becoming a TV meteorologist, Bert ends up trapped in the television, dashing from show to show. Cookie Monster's wish for more cookies results in more Cookie…Monsters! Abby Cadabby teams up with her favorite storybook detective – brought to life by a wish, of course – to try and solve the mystery of what's going on in the neighborhood. The adventure continues until an unlikely (and grouchy) hero intervenes!

"
Notes
Characters
Muppets:
Background Muppets:
Two-Headed Monster, Julia, Gladys the Cow, Chicken, Birds, Shoes, Sunflower, Jacket, Cat, Goose, Popsicle, Pig, Mel, AM Monsters, Anything Muppets, Honker, Little Bird (animated)
Cast
Cast
Special Guest Stars
Sesame Street Muppet Performers
Child Extras
Aidan Alberto, Nikki Ayoub, Swayam Bhatia, Taj Boyd-Blain, Annabelle Chow, Juliana Deluzio, Spohia Distefano, August Gallo, Leo Kennedy, Anais Lee, Mirabelle Lee, Zach Lee, Mehret Marsh, Madeleine Pace, Sofia Pellegrino, Jomil Robinson
Credits
Executive Producers: Brown Johnson, Benjamin Lehmann, Ken Scarborough
Producers: Mindy Fila, Karyn Leibovich, Stephanie Longardo
Directed By: Jack Jameson
Head Writer: Ken Scarborough
Writers: Joe Fallon and Ron Holsey
Associate Producers: Andrew Moriarty and Bryce-Loren Walker
Senior Vice President of Curriculum and Content: Rosemarie T. Truglio, Ph. D.
Music Director: Bill Sherman
Music Director (Arrangements and Orchestrations): Joe Fiedler
Music Director (Vocals): Paul Rudolph
Composers: Eli Bolin, Joe Fiedler, Bill Sherman, Shaina Taub
Music Copyist: Joe Fiedler
Sesame Street Band: Randy Cohen, Michael Croiter, John Deley, Doug Derryberry, Johnathan Dinklage, Joe Fiedler, Rob Jost, Matt Lehmann, Gary Meyer, Kenny Rampton, Entcho Todorov, Anja Wood
Sound Effects Editor / Re-Recording Mixer: Dick Maitland, C.A.S.
Music Editors: Tyler Hartman and Paul Rudolph
Associate Director: Ken Diego
Production Designer: David Gallo
Cameras: Frankie Biondo, Jerry Cancel, Rich Freedman, Shaun Harkins, Anthony Lenzo, Pat Minietta, Mark Renaudin
The Jim Henson Company Creature Shop
Puppets, Costumes and Props: David Bizzaro, Brian Carlson, Tyler Hall, Liz Hara, Michelle Hickey, Rollie Krewson, Sarah Lafferty, Lara MacLean, Constance Peterson, Sierra Schoening, Jason Weber
Magnetic Dreams Animation Team
Elmo's World Animation Team
Sources