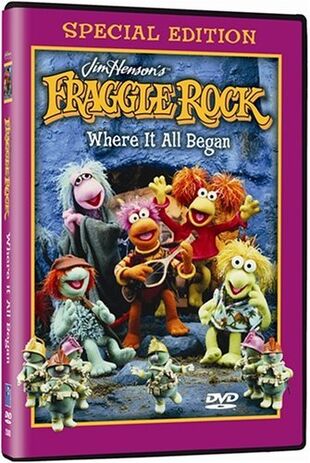 Where It All Began was distributed by HIT Entertainment as the first release of Fraggle Rock on Region 1 DVD. Released first to test the home video market for product demand on July 20th of 2004, the disc (and it's VHS counterpart released at the same time) included two episodes strung together for a 47 minute running time starting with an opening theme, re-done credits at the end for both episodes, and a Fraggle Rock logo in the middle to separate them. The DVD edition featured an additional episode as well as a trailer and episode of HIT's animated series Pingu.
After sales figures were collected for the test market disc, a Special Edition was released on October 19th of the same year featuring the same content, with two additional features: an episode of the animated Fraggle Rock and the 1983 Fraggle Songs music video compilation.
Episodes
DVD Bonus Features (Special Edition only)
Notes
The closing credits for both releases incorrectly display the first two episode names as "The Beginning" and "Wembley and the Gorg".
Gallery