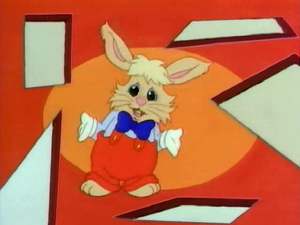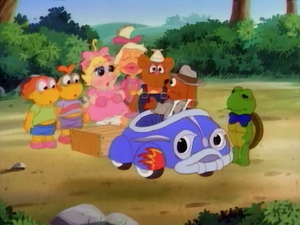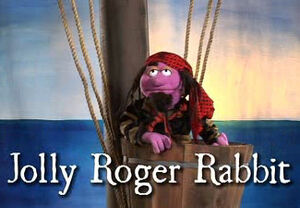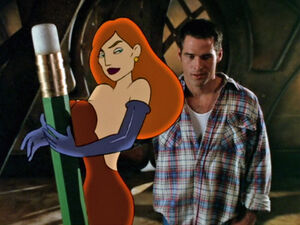 Who Framed Roger Rabbit is a 1988 live-action/animated film produced by Touchstone Pictures, loosely based on the novel Who Censored Roger Rabbit? by Gary K. Wolf. Following the efforts of a private eye (Bob Hoskins) to clear spastic cartoon star Roger Rabbit, the movie combines film noir elements with appearances by a host of established cartoon characters from Disney, Looney Tunes, and others.
Muppet Mentions
In the 1981 book Who Censored Roger Rabbit? (with the plot differing from the film), Roger and one of his bosses are murdered. Leaving Roger's home after finding the body, detective Eddie Valiant discovers a clue: "a plastic squeeze toy in the shape of Kermit the Frog." The toy Kermit's eyes bug out and its tongue sticks out when squeezed. The toy is shown twice more to others involved in the case (and the last mention omits Kermit's name).
References
At the American Comedy Awards in 1989, Kermit listed Roger Rabbit as a fellow non-human worthy of being nominated.
The Pig of the Nineties marketing campaign proposed a romantic split between Kermit the Frog and Miss Piggy. One of the planned promotional appearances was to have included the former couple sparring during an interview where Piggy bemoans the fact that Kermit has been spending a lot of time with the likes of Minnie Mouse and Jessica Rabbit.
In a Comic Relief segment in 1991, a movie trailer voice-over announces that Bob Hoskins is in a film about a rabbit (referencing the movie). However, two Muppet wolves appear to inform him that they ate the rabbit.[1]
Baby Bean Bunny goes missing in the 1990 Muppet Babies episode "Whose Tale Is It, Anyway?" and takes on the persona of a number of lagomorphic characters from various stories. When Janice captures something in a box-and-stick trap, it's revealed to be Baby Rowlf playing the part of Eddie Valiant riding Benny the Cab. Bean overhears him looking for a tall rabbit in red overalls and funny cheeks, and responds to himself: "Oh, p-p-p-please," after Charles Fleischer's recognizable voice tic for Roger Rabbit. Later, in song, Bean appears as the character in an attempt to keep up with everyone's expectations.
In Farscape episode "Revenging Angel", Aeryn appears as an animated character. Crichton erases and redraws her as Jessica Rabbit, who quotes her famous phrase from the film ("I'm not bad, I'm just drawn that way.")
Connections
Sources