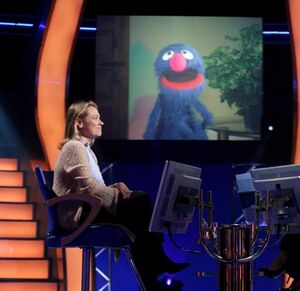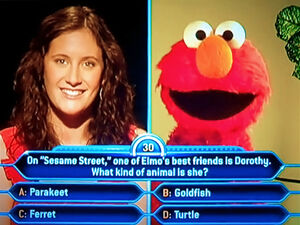 Who Wants to Be a Millionaire is a television game show which offers a maximum cash prize of one million dollars for correctly answering successive multiple-choice questions of increasing difficulty. The show has been hosted by Regis Philbin from 1999-2002, Meredith Vieira from 2002-2013, Cedric the Entertainer from 2013-2014, Terry Crews from 2014-2015, Chris Harrison from 2015-2019 and Jimmy Kimmel since 2020.
Appearances
On November 14, 2000, Kermit the Frog appeared sitting with Alec Baldwin in the audience of the celebrity edition of Who Wants to Be a Millionaire as a guest of Jon Stewart. Other celebrities on the episode included Drew Carey (host of Whose Line Is It Anyway?), Tyra Banks, Sean Combs, Joy Behar (host of The View), Norm MacDonald, Vivica A. Fox, Jon Lovitz and Charlie Sheen, who uses Michael J. Fox as his "phone a friend." After Stewart walked away with $125,000 for the Alzheimer's Association, Drew Carey took a question about The Muppet Movie (pictured). Kermit alluded to helping without actually giving Carey any information about the answer, which he got right. Kermit later helps Charlie Sheen with a question about amphibians and Jon Lovitz with a question about the soft drink Sprite.
On February 16, 2010, Grover appeared to present contestant Rye Councilwoman Catherine Parker the celebrity question, worth $7,500, about what kind of animal Oscar's pet Slimey was with the choices being A: Worm, B: Spider, C: Cockroach and D: Rat. After using the Ask the Audience lifeline, she went for A and got it right.[1]
References
Mentions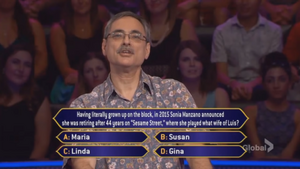 Sources