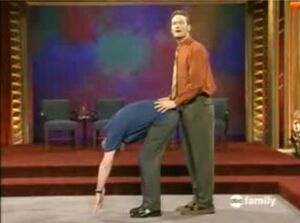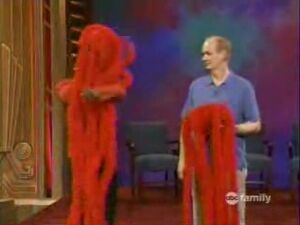 Whose Line Is It Anyway? (sometimes referred to as Whose Line? or WLIIA) is an improvisational comedy show. It originated as a British radio show, but was then transferred to British TV, where it was hosted by Clive Anderson (1988-1998), and eventually American TV, hosted by Drew Carey (1998-2007), then Aisha Tyler (2013-present). The show's games (both British and American versions) have referenced the Muppets several times.
Muppet Mentions
British version
In the game Film and Theatre Styles, Muppets or Sesame Street were frequently used styles.
In a game of Whose Line, Ryan Stiles and Colin Mochrie discuss Ryan's pre-wedding jitters. Colin calls his bride-to-be a tramp saying that "She's had more hands up her than the Muppets!"
American version
In the second episode of season 1, during a game of "Let's Make a Date," Ryan Stiles was a man with an alien coming out of him. Brad Sherwood guessed he was either that or Jim Henson.
In a season 3 episode, Wayne Brady and Chip Esten reference Sesame Street in a game of "Props" by holding two parenthesis-style pieces together. One of them says, "Today's show was brought to you by the number 8!". In a Sixth Season episode featuring the "Props" game, Wayne and Greg Proops are on one side. One of them references Sesame Street by forming a letter O and announces the traditional "brought to you by the letter/number" line.
In a 5th season episode, in the game "Scenes From a Hat", a suggestion reads: "If lessons of love and sex were taught in the style of Sesame Street." Wayne puts on a Latin accent for "cerrado/abierto", Colin Mochrie wants to take a look at Big Bird, Colin, Kathy Greenwood, and Wayne re-enact the One of These Things segments, and Colin and Ryan form a (reverse) letter H.
In a season 5 episode, one game had two panelists on one side each, portraying a couple. One side sang as Kermit the Frog, and the other side sang as Miss Piggy. (YouTube)
In an episode from the 7th season, Kathy Greenwood sings part of "Rubber Duckie" in Scenes From a Hat ("Bad songs to sing while making love").
In a game of "Props", during Season 4, a large red pompom-like object is used. At one point, Wayne pumps it into the air and chants, "Animal!"
At the end of one episode, the cast is told to read the credits as if they were wild animals attacking the screen. Once again, Wayne refers to Animal, chanting his name and running wildly toward the screen.
In another game of Props, Ryan Stiles, holding two gangly-looking props, says "Big Bird and the wife passed out."
One playing of "Film, TV & Theatre Styles" had the style of Sesame Street. Ryan imitates Count von Count, Colin imitates Oscar the Grouch and Wayne acts as Ernie and Grover (referencing his famous "Near and Far" sketch).
References
The Muppet Babies episode title "Whose Tale Is It, Anyway?" is a nod to the show.
When Wayne Brady appeared on Sesame Street in a 2003 episode, Elmo asks him to show between. Wayne was unaware of this, but Elmo encourages him, saying he's good at making things up on the spot, a reference to Wayne's musical presence on the show.
Connections